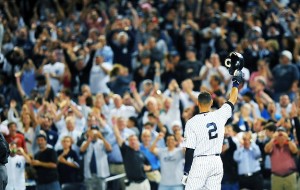 "In order to be a leader, you have to know your job. You have to make people want to follow you, and nobody wants to follow somebody who doesn't know where he's going" (1).
Derek Jeter
Expectations define an organization. If a company's status quo is to do the least amount of work just to get through day-to-day operations, then that unit will not prosper. A sickly stagnation seeps in as energy and expectation seep out. But what if a person decides to raise the bar of his/her coworkers, and strives on a daily basis to attain untouched levels of success? Then, you have a captain, and if he consistently performs well, the potential for a dynasty.
Derek Jeter is the epitome of the ideal captain; he raises the bar for his team to reach the ultimate accomplishment—winning a World Championship. Jeter's stellar play reflects his ambitious sentiment, with the acclaimed shortstop having racked up the most base hits in New York Yankees history, five Gold Glove Awards and five World Series Championship rings. Additionally, Jeter's 3000 hits, iconic postseason 'flip', 'dive' and invaluable intangibles have solidified him as a first ballot Hall of Fame inductee. The Captain proved he could perform at a Championship level, and motivated his teammates to do the same. What happened? One of the greatest baseball dynasties of all time was born.
When you set a vision for your group or organization, and prove that you can carry out what you are asking others to do, your captainship is established. And your voyage to victory begins.
Take the helm.
Works Cited
1. "Derek Jeter Quote Collage (To Be Signed) (Proceeds Going to AVD)." Lot Detail -. Steiner Sports Memorabilia, n.d. Web. 08 Mar. 2014.